NO. 4
Our own iron man
Before Lou Gehrig came along, Everett Scott became the first major-leaguer to play in 1,000 consecutive games.
By BLAKE SEBRING
of The News-Sentinel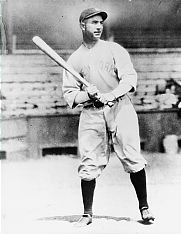 Within the last four years, Bluffton native Everett Scott has become a footnote to history.

As Cal Ripken of the Baltimore Orioles chased and then surpassed Lou Gehrig's major-league record for consecutive games played, few people remembered whose record Gehrig broke. The sure-handed "Deacon" became the first player to ever play more than 1,000 games consecutively from 1916 to 1925.

Born in Bluffton on Nov. 19, 1892, Scott graduated from Bluffton High School in 1909. His family moved to Auburn while Everett started his pro baseball career in Kokomo and then moved on to Youngstown, Ohio,to play in the Ohio-Pennsylvania League.

He advanced to St. Paul (Minn.) for the 1913 season, where he earned a quick call-up to the Boston Red Sox, hitting .289 that season in 144 games.

Though he was only 5-foot-8 and never weighed more than 148 pounds, Scott was an expert fielder. From 1916 to 1923 he led all American League shortstops in fielding, setting a record that still stands. He still holds the AL record for fewest errors in a season by a shortstop with 23 in a 154-game season in 1920.

Ironically, his consecutive-game streak started with an injury to Scott. According to a 1922 story in Baseball Magazine, Scott was spiked by Ty Cobb in 1916. He tried to play the next game wearing the larger spikes of his manager but suffered a sprained ankle, forcing him to sit out a few games. The streak began June 20, 1916, when Scott replaced a player in the ninth inning.

There was plenty of luck along the way to keep the streak alive. According to a 1922 story in the New York Tribune, Scott often played through injuries and illnesses. Scott often suffered from boils, and one time a boil almost forced one of his eyes closed.

"Ed Barrow, who was managing the team, said that I was not to play that afternoon," Scott said. "I felt rotten and didn't even go near the ballpark. And say, do you know what happened? It rained! Yes, sir -- rained, and there was no ballgame. That night the boil broke, and the next day I was back on the job with the record intact. Some luck, eh?"

That same season he played with 4 yards of bandages covering one leg and through other injuries.

"Oh, I had my share of bumps on the field," he said. "But I never got hurt real badly. . . . I sure had a lot of luck with the record."

Amazingly, Scott more than doubled the former record of 577 games by Dodgers third baseman George Pinkney. The streak didn't end until New York Yankees manager Miller Huggins benched him because of sore knees on May 5, 1925. Scott had played 1,307 consecutive games. Less than a month later, on June 1, 1925, Gehrig began his streak. He broke Scott's streak on Aug. 17, 1933, in a game against the St. Louis Browns.

Scott's record did not include 27 World Series games or about 200 exhibition games. He also played only 126 games in 1918 and 128 in 1919 because of World War I as baseball played fewer games.

There were plenty of other highlights during Scott's career. He played in five World Series -- with Boston in 1915, 1916 and 1918, and in 1922 and 1923 with New York. He was a starter on four World Series winning teams.

During the first game of the 1916 series, he saved the game for the Red Sox against the Brooklyn Dodgers. With the bases loaded in the ninth inning and the Dodgers threatening, Scott snagged Jake Daubert's line drive and threw him out from deep in the hole to preserve the victory.

The Red Sox beat the Chicago Cubs for the 1918 title -- the last World Series victory the Red Sox have had -- with Scott driving in the game-winning run in the third game. Scott set a World Series record by handling 36 chances in the six-game series without an error. He also set the record for a five-game series in 1922 with the Yankees by successfully handling all 29 chances.

He set the record for fewest strikeouts by a Yankees hitter in a season with 13, which Yogi Berra broke with 12 in 1959.

Besides playing with the Red Sox and Yankees, Scott played with the Cincinnati Reds, Chicago White Sox and Washington Senators. His big-league career ended in 1926, but he continued playing in the minors with Baltimore, Toledo and Reading until 1929.

During his 13-year major-league career, Scott had a .249 average with 1,455 hits. His best hitting year was 1920, when he hit .269 with 12 triples. Another highlight included being Babe Ruth's roommate with the Yankees and Red Sox.

After he retired, Scott moved to Fort Wayne to manage a pair of bowling alleys. Scott was also an excellent bowler, rolling countless 300 games. At the time of his death, Scott held the Fort Wayne league record with a 218 average. He held numerous city and state championships.

Scott died Nov. 2, 1960, at Parkview Hospital in Fort Wayne. He was inducted into the Indiana Baseball Hall of Fame in 1986.