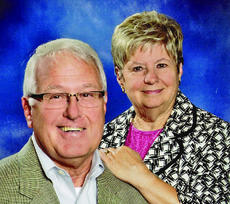 Anniversary
John and Belva (Bender) Patterson

John and Belva (Bender) Patterson

John and Belva, of Ossian, are celebrating their 50th wedding anniversary. They were married August 29, 1964 at Trinity English Evangelical Lutheran Church, Fort Wayne.

The couple has 2 daughters, Amanda (Scott) Baker, Ossian and Krista (Greg) Lobsiger, Craigville and 5 grandchildren; Staci, Joshua, Brook, Summer and Reece.

John is a retired funeral director and Belva is retired from sales.


Originally published on August 23, 2014