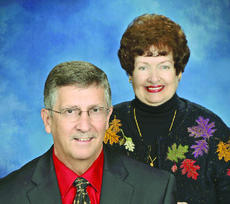 Anniversary
Bruce and Joy Frederick

Bruce and Joy Frederick

Bruce and Joy of Fort Wayne recently celebrated their 50th wedding anniversary.

The couple married on August 15, 1964 at First United Methodist Church in Cuyahoga Falls, Ohio, followed by a reception held at the Town & Country Motel. They honeymooned at Lake George, New York.

Bruce and Joy met in the church choir, and have enjoyed singing with choral groups ever since. They moved to Fort Wayne in 1966, and also reside at their home in The Villages, Florida.

Bruce graduated from Akron University, Akron, Ohio, and retired from Michelin (Uniroyal-Goodrich) in Woodburn. Joy graduated from Purdue University, Fort Wayne, and retired from American Electric Power (I&M) in Fort Wayne.

They have two children, David and Michael, (Kristen) and two granddaughters, Jordan & Jessica, all living in Fort Wayne.

After a family celebration, the couple will visit points of interest in Michigan, and Key West, Florida.


Originally published on August 16, 2014