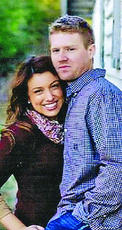 Engagement
Ryan Chenoweth and Caroline Koontz

Ryan Chenoweth and

Caroline Koontz

Mr. and Mrs. John Koontz of Winston Salem, North Carolina are pleased to announce the engagement of their daughter Caroline Koontz to Ryan Chenoweth, son of Roger and Cindy Chenoweth of Fort Wayne, Ind.

Caroline, a graduate of First Assembly Christian High School Concord, North Carolina, and Rowan Community College, is a licensed cosmetologist at Solace Salon and Day Spa, in Concord. Ryan, a graduate of Homestead High School and Ball State University, is a Non-Ferrous Supervisor at Omni Source in Charlotte, North Carolina.

The couple will wed on September 27th, in Winston Salem, North Carolina.


Originally published on August 2, 2014