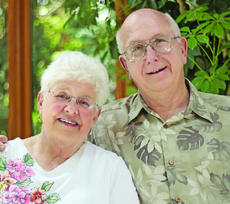 Anniversary
Jack and Caroline Sandstrom

Jack and Caroline Sandstrom

Jack and Caroline will celebrate their 50th wedding anniversary Friday, July 18th. They were married at the First Presbyterian Church in Van Wert, Ohio, on the hottest day of the summer!

Jack and Caroline started Viking Business Forms in 1978, and retired from same in 2009. The company remains owned by their daughter, Lisa in Fort Wayne, and operates as Proforma Viking. They also have a son, Scott (Libby) who resides in Westfield, Ind.; a grandson, Erik, who lives in Charlotte, North Carolina, a granddaughter, Kate, who is in Westfield, and a great-granddaughter Riley Grace, also in Westfield.

They plan a small celebration with a family dinner.


Originally published on July 12, 2014