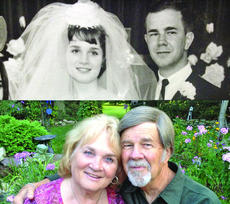 Anniversary
Ron and Harriet (Rice) Highland

Ron Highland and Harriet (Rice) Highland

Ron and Harriet (Rice) Highland, of New Haven, celebrated their 50th wedding anniversary June 13, 2014.

Harriet 16, and Ron 19, met at Poppa Joe's Root Beer Stand (Decatur), and married three years later on June 13, 1964, at Decatur Methodist Church.

Ron is a Decatur High 1960, and Franklin College graduate; and retired from Fort Wayne Newspapers. Harriet is a Monmouth 1962, and IBC graduate.

They love to travel, and have been to 20 countries.

The couple have three wonderful children. Douglas (Tammy) Highland, Rhonda (Joel) Huebner, Jennifer (Otis) King, and eight beautiful grandchildren.

They celebrated with family.


Originally published on June 14, 2014