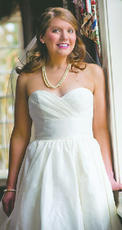 Wedding
Douglas Peter Reinking and Lauren Scammell Pike

Douglas Peter Reinking and Lauren Scammell Pike

The marriage of Miss Lauren Scammell Pike of Chicago, Illinois, daughter of Mr. and Mrs. William Avery Pike Jr. of Richmond, Virginia, to Mr. Douglas Peter Reinking of Chicago, son of Mr. and Mrs. Ronald Leo Reinking of Fort Wayne, Indiana, took place April 26, 2014, at Trinity United Methodist Church in Richmond, Virginia. A rehearsal dinner, hosted by the groom's parents, was held at the Berkeley Hotel. After the ceremony, a reception was held at Richmond Country Club.

The couple will reside in Chicago.


Originally published on May 3, 2014