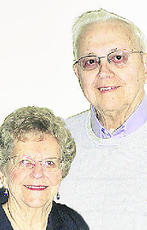 Anniversary
Dean and AnnaMae (Oberlin) Baker

Dean and AnnaMae

(Oberlin) Baker

Dean and AnnaMae, from Hamilton, Ind., will celebrate their 65th Wedding Anniversary on April 16, 2014. They were married in Medarville, Ind., by the Reverend A.P. Benjamin.

The couple has three children; Denise (Mike) Hostetler of Fort Wayne, Dennis Dean Baker (Lori) of Huntertown, and Thomas (Shelly) Baker of Hamilton; four grandchildren, Kelley (Richie) Flores , Matthew Hostetler (Kelsey), Jessica (Tim) Elkins and Joshua Baker, and one great grandchild, Maximus Elkins.

They will celebrate with a family dinner.


Originally published on April 12, 2014