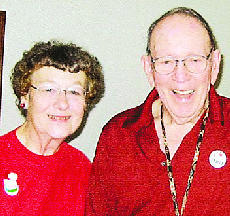 Anniversary
Charlie and Marty Imler

Charles and Martha Imler Charlie and Marty are celebrating their 60th Wedding Anniversary, April 10, 2014.

The couple has been blessed with two daughters, Jeanne Imler (John) Gebhard-Moodie, Sharon (Kevin, deceased) Doster, and one son Tim (Susan Knipstein) Imler; as well as five grandchildren, Lindy, Maddie, Mitchell, Max, and Ike.

Charlie retired from FWFD, as Captain, after 27 years of service. He also worked at FWCS for 18 years. Marty retired from FWCS, after 21 years of service.


Originally published on April 5, 2014