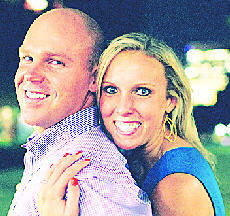 Engagement
Troy Welti and Candice Tressler

Troy Justin Welti and Candice Babette Tressler

Craig and Judy Welti of Ft. Wayne, Ind. proudly announce the engagement of their son, Troy Justin Welti, to Candice Babette Tressler, daughter of Roland Sr. and Susan Tressler of Bel Air, Maryland.

Candice graduated from Fallston High School in Fallston, Maryland. She received her BS in Health Sciences from James Madison University and a Doctor of Physical Therapy from Drexel University. Candice is a Senior Physical Therapist employed by First Steps Pediatric Therapy in Charlotte, NC. Troy graduated from the The Cambridge School in Tampa, Fla. He received a BS in statistics from the University of Florida and a Masters degree in Statistics from Ball State University. He is currently enrolled at the University of North Carolina, Charlotte finishing a Masters degree in Mathematical Finance. Troy is an international risk consultant at Wells Fargo, in Charlotte, NC.

A May 2014 wedding is planned in Wilmington, NC. The couple will reside in Charlotte, NC.


Originally published on February 1, 2014