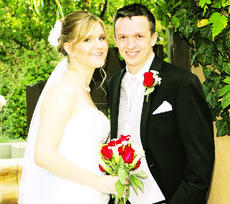 Wedding
Natalie and Colin Shipley

Natalie and Colin Shipley

Natalie Freienmuth and Colin Shipley were married September 7th, at the Hotel Albuquerque, Albuquerque, New Mexico.

The bride is the daughter of Susan and John Freienmuth of Rio Rancho, New Mexico. The groom is the son of Yvonne Stam and Grant Shipley of Fort Wayne.

The bride was escorted by her parents. The honor attendants Virginia Spotts, friend of the bride, and Adam Shipley, brother of the groom. Attendants were Jennifer and Eric Freienmuth, sister-in-law and brother of the bride, Dani McCade Mindy Grupe, and Rebecca Anderson Culp, friends of the bride, Austin Waikel and Andrew Parnell, cousins of the groom, and Steve Owens, friend of the groom.

Colin and Natalie are graduates of Rose-Hulman Institute of Technology. Colin is a graduate of South Side High School and Natalie holds a Masters in Business Administration from the University of New Mexico. The groom is employed by Bastian Material Handling, Maryland Heights, Missouri.

The couple honeymooned in Napa, California, and resides in Maryland Heights, Missouri.


Originally published on January 4, 2014