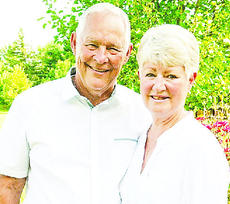 Anniversary
Larry and Carol Goeglein

Larry and Carol Goeglein

Larry and Carol were married on Sunday, December 22, 1963, at Mt. Calvary Lutheran Church, followed by a reception at Goegleins.

They have been blessed with three children and their spouses: Dan (Sarah), Don (Christy) and Diana (Bill) Habegger; and have eight treasured grandchildren: Tyler, Nick, Alex, Susan, Josh, Matthew, Michael and Jack.

Larry and Carol invite you to join them in celebration of their 50th wedding anniversary at an Open House, 1-4pm, Sunday, December 22, at Goeglein Homestead, 7311 Maysville Road, Fort Wayne, Ind.


Originally published on December 14, 2013