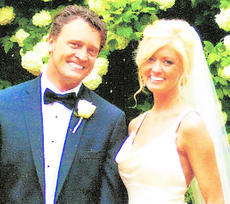 Wedding
Mackenzie Hartman and Shawn Schwegman

Mackenzie Hartman and Shawn Schwegman

Mackenzie and Shawn were married May 10, 2013 at SS, Peter and Paul Cathedral, Indianapolis, Indiana. Father Robert Obermeyer performed the 6:00pm ceremony.

The bride is the daughter of Paul and Marta Hartman of Wolcottville, Indiana. The groom is the son of Terry and Beverly Schwegman of Batesville, Indiana.

The bride was escorted by her father. Molly Gigli, sister of the bride was matron of honor. Mindy Mayol, sister of the bride, Kelsey Schwegman, daughter of the groom, Angie Shepler, Christy Chen, and Megan Lawler, friends of the bride were bridesmaids. Kieran Schwegman, son of the groom was best man. Ryan and Nathan Schwegman, brothers of the groom, Matt Mayol and Jordan Gigli, brothers-in-law to the bride, and Abraham Pherson, brother-in-law to the groom were groomsmen. The reception was given at the Eiteljorg Museum in Indianapolis, Indiana.

The couple spent their honeymoon on a cruise to the Bahamas which included stops at St. Thomas, Puerto Rico, Grand Turk.

The couple are living in Indianapolis.


Originally published on December 7, 2013