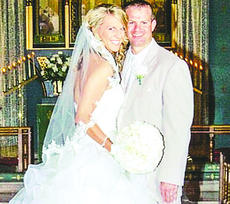 Wedding
Courtney Berger and Andrew Drummond

Courtney Nicole Berger and Andrew Daniel Drummond

Courtney and Andrew were united in marriage on August 10, 2013 at Trinity English Lutheran Church, officiated by Pastor Dr. Kathleen Haller, in Fort Wayne, Indiana.

Their proud parents are Brent & Cheryl Berger and Daniel & Barbara Drummond. Stefanie VerBryck, sister of the bride, was matron of honor. Hannah Scheiber, Nicole Berger, Chelsey Wiley, Brittney Brumbaugh, Whitley Weikart, Cheryl Grow, Tiffanney Drummond and Rachel Drummond were bridesmaids. Emileigh Berger, Makenzie VerBryck, Adalyne Verbryck and Reese Drummond were flower girls. Austin Drummond, brother of the groom, was best man. Aaron Drummond, Adam Drummond, Justin Berger, Chris Kaiser, Jarod Hammel, Levi Sell, Christopher Kramer and Ryan Shell were groomsmen. Coletin Berger and Chase Drummond were junior groomsmen. Caden Berger, Carson Drummond and Grant Drummond were Ring Bearers. John and Noni Hoham, assisted with Holy Communion. Marissa Jarznka, Scripture Reader. Chery l Szink, mistress of ceremonies. Andrea Skimos, Felicia Friese, Laura Nance and Kylie Kaylor, were greeters. Jordan Rudicel, Brad Schnitz, Neil Stoffel and Ben Ryan were ushers.

Andrew and Courtney celebrated with their family and friends at Ceruti's Diamond Room before leaving on their honeymoon to St Lucia.


Originally published on November 30, 2013